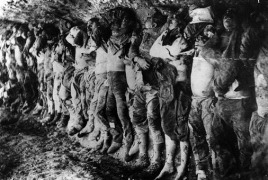 March 25, 2016 - 09:25 AMT
PanARMENIAN.Net - On April 24, thousands of devoted Armenian Americans, their friends, and supporters will gather in Times Square, New York, to commemorate the Armenian Genocide.
In recognition of Genocide Awareness Month in April, Holocaust Remembrance Day will also be commemorated, as well as other genocides that have been perpetrated, the Armenian Weekly reports.
The theme of the Armenian Genocide commemoration is "Truth, Recognition, and Justice." This historic event will pay tribute to the 1.5 million Armenians who were annihilated by the Young Turk government of the Ottoman Empire and to the millions of victims of subsequent genocides worldwide. Speakers will include civic, religious, humanitarian, educational, and cultural leaders, and performing artists. The event is free and open to the public. Attorney R. Armen McOmber will serve as master of ceremonies.
"These killings, which were labeled 'crimes against humanity and civilization' at the time, exactly fit the definition of the word genocide, which was coined by Raphael Lemkin, a Polish-Jewish lawyer in 1943," said Dennis R. Papazian, Ph.D., past national grand commander of Knights of Vartan and founding director of the Armenian Research Center at the University of Michigan-Dearborn. "It is only proper to bring the terminology up to date and apply the international laws for genocide to the Armenian case."
Papazian headed the Armenian Assembly of America in 1975, when a non-binding resolution recognizing the mass killings of Armenians as genocide passed through Congress. On April 22, 1981, then-President Ronald Reagan issued Proclamation #4838, which summoned Americans to commemorate the anniversary of the liberation of the Nazi death camps. The proclamation stated, "Like the genocide of the Armenians before it, and the genocide of the Cambodians which followed it—and like too many other persecutions of too many other peoples—the lessons of the Holocaust must never be forgotten."
Papazian further observes that President Barack Obama used the Armenian phrase "Medz Yeghern" ("Great Crime") in his annual April 24 proclamation issued on Armenian Remembrance Day—words that Armenians use as the equivalent of genocide. "But the U.S. position is kept slightly ambiguous since our country fears alienating Turkey, an important and unpredictable country in the Middle East," he adds.
"In the long run," stresses Papazian, "it is Turkish recognition of the Armenian Genocide which is crucial, since Turkey is the responsible successive government of the Ottoman Empire. In recent years there have been some positive developments among progressives. Examples of progressives are Turkish intellectuals, including the grandson of one of the chief perpetrators; so it is within the realm of possibility that Turkey itself will recognize the Armenian Genocide and make some sort of restitution," he concludes.