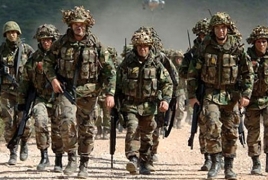 March 25, 2016 - 10:25 AMT
PanARMENIAN.Net - The American combat role in Iraq appeared to expand on Thursday, March 24 as U.S. Marines operating from a small outpost provided targeting assistance and artillery fire to support Iraqi troops inching forward to retake Mosul from Islamic State militants, the Associated Press reports.
A senior U.S. official said the Marines fired illumination rounds to help the Iraqi forces locate IS fighters, and also fired artillery rounds in support of the operation, as Iraqi troops took control of several villages on the outskirts of Makhmour, southeast of Mosul. The official was not authorized to discuss the operation publicly and requested anonymity.
Earlier this week, U.S. military officials confirmed the creation of the Marine outpost, dubbed Fire Base Bell. It's the first such base established by the U.S. since it returned forces to Iraq in 2014. But they insisted that the nearly 200 Marines were only there to provide security for Iraqi forces and U.S. advisers at the nearby Iraqi base in Makhmour, AP says.
American fighter jets also participated in Thursday's operation, launching multiple airstrikes on at least two locations, hitting enemy rocket and mortar positions, the official said. The U.S.-led coalition has routinely been launching airstrikes across Iraq against the Islamic State group.
The White House has ruled out a ground combat role for the U.S. in Iraq, and is intent on avoiding the appearance of any expansion in military operations there — more than four years after President Barack Obama pulled U.S. troops out of the country.