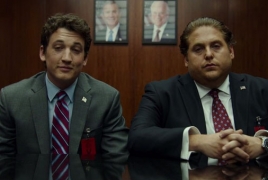 March 25, 2016 - 13:52 AMT
PanARMENIAN.Net - "War Dogs", formerly called "Arms and the Dudes", has premiered its official trailer. The movie is based on a true story as told in the Rolling Stone article by Guy Lawson. The trailer follows Efraim Diveroli (Jonah Hill) and David Packouz (Miles Teller), a pair of arm dealers, AceShowbiz said.
The trailer opens with Efraim and David having a meeting with generals in Pentagon after winning a $300 million deal to arm American soldiers in Afghanistan. One general tells the duo that they were chosen because "your bid was far too low for us to pass up."
"They call guys like us war dogs - bottom feeders who make money off of war without ever stepping foot in the battlefield. It was meant to be derogatory, but we kinda liked it."
"You seriously want to drive to Baghdad?" asks David, to which Efraim says, "David, we're gun runners. Let's go run some guns!" The duo eventually manage to deliver a truckload of weapons to their intended destination. An incredulous commander asks, "You drove these through the Triangle of Death?" Efraim responds, "We drive through all triangles, including your mom's."
Directed by Todd Phillips, "War Dogs" also star Ana de Armas and produce by Bradley Cooper. It is set to be released in the U.S. on August 19.