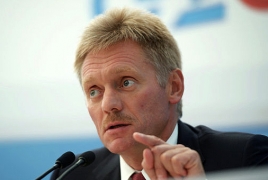 April 1, 2016 - 17:15 AMT
PanARMENIAN.Net - Turkey hasn't assumed responsibility for the downing of the Russian Su-24 aircraft over Syria in November last year, a spokesperson for the Russian President said Friday, April 1, Sputnik International reports.
On Thursday, Turkish President Recep Tayyip Erdogan said during an address at the Brookings Institution in Washington, DC that Turkey and Russia needed to reestablish relations because they were two important countries that share common interests.
"It was absolutely clear what the Russia expected from Ankara after the incident," Dmitry Peskov said. "I mean the death of the pilot after our plane was brought down by the Turkish Air Force. There hasn't even been the slightest hint in this regard."
Earlier on Friday, the Turkish authorities confirmed the arrest of Alparslan Celikm, the alleged killer of one of the pilots of the Russian jet downed by Turkey.
Russian pilot Oleg Peshkov was reportedly killed by rebel gunfire from the ground after he ejected from his Su-24 warplane downed by a Turkish F-16 fighter jet, while another pilot was rescued.