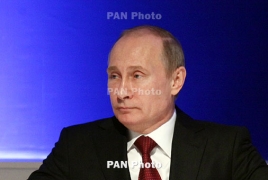 April 2, 2016 - 13:29 AMT
PanARMENIAN.Net - Russian President Vladimir Putin on Saturday, April 2, expressed serious concern over the recent resumption of military operations on the Nagorno Karabakh contact line, a Kremlin spokesperson told reporters.
"President Putin urges both sides to immediately stop the fire and show restraint," Dmitry Peskov said, according to RIA.
Earlier, a spokesperson for the Russian Foreign Ministry, Maria Zkharova said Moscow was carefully studying the information on the escalation in Nagorno Karabakh.
On the night of April 1-2, Azerbaijani armed forces initiated overt offensive operations in the southern, southeastern and northeastern directions of the line of contact with Nagorno Karabakh, using artillery, armored fighting vehicles and air force equipment among other weapons.
Aside from the battles on the frontline, the rival has also carried out artillery strikes on civilian settlements and places of permanent deployment of several military units.
On April 2, at around 8:30 am, the rival used BM-21 Grad multiple rocket launcher in the Martuni direction of the contact line. 12-year-old Vaghinak Grigoryan was killed in the shelling, two more children were wounded.
Earleir, the Nagorno Karabakh special forces identified an Azerbaijani subversive group near the Levonarkh settlement and threw the saboterus back to their positions.
According to Armenia's Defense Ministry, the rival troops retreated after suffering several human losses.
Military operations are currently underway.
Read also:Karabakh troops thwart Azerbaijani subversive attack
12-year-old Armenian child killed, two more wounded in Azeri shelling