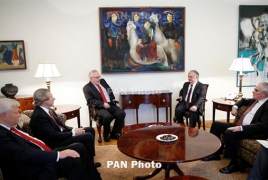 April 2, 2016 - 17:59 AMT
PanARMENIAN.Net - The Co-Chairs of the OSCE Minsk Group (Ambassadors Igor Popov of Russia, James Warlick of the United States, and Pierre Andrieu of France) issued a statement to express grave concern over the reported large-scale ceasefire violations that are taking place along the line of contact in the Nagorno Karabakh conflict zone. "We strongly condemn the use of force and regret the senseless loss of life, including civilians," the statement said.
"The Co-Chairs call upon the sides to stop shooting and take all necessary measures to stabilize the situation on the ground. They reiterate that there is no alternative to a peaceful negotiated solution of the conflict and that war is not an option," the statement said.
Popov, Andrieu and Warlick will meet April 4 in Vienna to discuss recent escalation in the Nagorno Karabakh.
On the night of April 1-2, Azerbaijani armed forces initiated overt offensive operations in the southern, southeastern and northeastern directions of the line of contact with Nagorno Karabakh, using artillery, armored fighting vehicles and air force equipment among other weapons.
Aside from the battles on the frontline, the rival has also carried out artillery strikes on civilian settlements and places of permanent deployment of several military units.
On April 2, at around 8:30 am, the rival used BM-21 Grad multiple rocket launcher in the Martuni direction of the contact line. 12-year-old Vaghinak Grigoryan was killed in the shelling, two more children were wounded.
Earleir, the Nagorno Karabakh special forces identified an Azerbaijani subversive group near the Levonarkh settlement and threw the saboteurs back to their positions.
According to Armenia's Defense Ministry, the rival troops retreated after suffering several human losses.
Read also:Azerbaijani army suffered over 200 losses Apr 1-2: Karabakh (video)
Azerbaijan used Grad rocket launcher to bomb Karabakh school: hospital