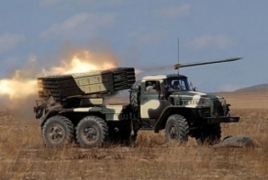 April 3, 2016 - 14:05 AMT
PanARMENIAN.Net - Azerbaijani Defense Ministry statement on a unilateral cessation of fire is completely false, spokesperson for the Nagorno Karabakh Defense Army Senor Hasratyan told PanARMENIAN.Net
Moreover, he said, at the moment, the Azerbaijani army units are using BM-21 Grad multiple rocket launchers and 152-mm artillery to shell Martakert.
The Nagorno Karabakh Defense Ministry declared on Sunday, April 3, that the situation is quite tense along the entire line of contact. Clashes are especially fierce in the northeastern and southeastern directions of frontline.
In Talish direction, Karabakh troops caused major human force and equipment losses to the Azerbaijani side. Here, according to verified information, Azeri forces lost three tanks, having lost another two tanks and an infantry fighting vehicle in the southeastern direction.
On April 2-3, the Azerbaijani side has lost 14 tanks and over 5 armored vehicles, including an IFV.
One Karabakh tanks has been destroyed so far.
On the night of April 1-2, Azerbaijani armed forces initiated overt offensive operations in the southern, southeastern and northeastern directions of the line of contact with Nagorno Karabakh, using artillery, armored fighting vehicles and air force equipment among other weapons.
On April 2, at around 8:30 am, the rival used BM-21 Grad multiple rocket launcher in the Martuni direction of the contact line. 12-year-old Vaghinak Grigoryan was killed in the shelling, two more children were wounded.
As many as 18 Karabakh servicemen were killed and 35 were wounded in the course of military operations.
According to Karabakh Defense Army spokesman Senor Hasratyan, 14 Azerbaijani tanks have been destroyed.