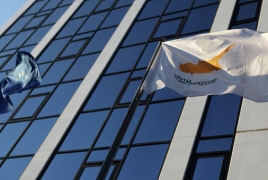 April 4, 2016 - 19:11 AMT
PanARMENIAN.Net - Cyprus on Monday, April 4, issued a statement on recent escalation in the Nagorno Karabakh conflict zone.
"Cyprus closely monitors the disturbing developments in Artsakh, condemning Azerbaijan's ceasefire violations," the Foreign Ministry said.
"We denounce the use of force and the loss of life, especially among civilian population, urging Azerbaijan to respect the status quo. There is no alternative to the peaceful settlement of the conflict."
The Ministry's statement also stressed the importance of the OSCE Minsk Group in the settlement of the conflict. At the same time, Cyprus urged Turkey to refrain from any activities and statements that could further destabilize the situation.
On the night of April 1-2, Azerbaijani armed forces initiated overt offensive operations in the southern, southeastern and northeastern directions of the line of contact with Nagorno Karabakh.
As many as 18 Karabakh servicemen were killed and 35-40 were wounded in the course of military operations. A civilian, 11-year-old Vaghinak Grigoryan was also killed, with 6 other civilians, including two kids, wounded, Besides, three elderly Armenians were brutally killed in Talish.
As of April 4, the Azerbaijani side has lost 20 tanks and over 5 armored vehicles, including an IFV, as well as 1 TOS-1A Solntsepyok multiple rocket launcher, 2 military helicopters and 6 unmanned aerial vehicles.
One Karabakh tank has been destroyed so far.