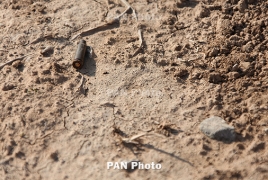 April 4, 2016 - 22:21 AMT
PanARMENIAN.Net - An Azerbaijani combat drone on Monday, April 5 evening struck a bus, which carried Armenian volunteers to Martakert, an Armenian Defense Ministry spokesperson said.
According to Artsrun Hovhannisyan, the incident took place north of the Karabakh-Azerbaijan contact line.
Five volunteers, including village chiefs were reported killed.
Earlier that day, the Azerbaijani units attacked a car which carried reporters to hotspots of military actions. Three shells landed at some 30m, 50m, and 55m from the journalists' car. No casualties were reported.
On the night of April 1-2, Azerbaijani armed forces initiated overt offensive operations in the southern, southeastern and northeastern directions of the line of contact with Nagorno Karabakh.
As many as 20 Karabakh servicemen were killed and 70 were wounded in the course of military operations. In addition, 10 civilians have been killed.
26 soldiers have gone missing so far.
As of April 4, the Azerbaijani side has lost 29 tanks and over 5 armored vehicles, including an IFV, as well as 1 TOS-1A Solntsepyok multiple rocket launcher, 1 BM-21 Grad multiple rocket launcher, 2 military helicopters and 7 unmanned aerial vehicles.
Seven Karabakh tanks have been neutralized since April 2. The Armenian side has lost eight positions (300 meters overall).