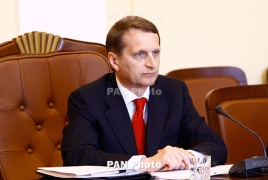 April 15, 2016 - 18:23 AMT
PanARMENIAN.Net - Moscow hosted on Wednesday, April 13 the Armenian Genocide-commemorating event "I remember and demand" during which MP from the United Russia party, Boris Reznik unveiled State Duma speaker Sergey Naryshkin's message.
"It is noteworthy that the event has gathered the Russian public and political organizations, representatives of national communities in Moscow, in support of the efforts aimed at the recognition and condemnation of the Genocide and the prevention of recurrence of international crimes," Naryshkin said in his statement.
"The Armenian Genocide has been condemned by a number of states and international organizations. Today, it is imperative for us to make every effort to rule out repetition of such events."
Naryshkin visited on March 11 the Armenian Genocide memorial, Tsiternakaberd in Yerevan. During his visit, the official laid a wreath at the memorial and honored the memory of the 1.5 million victims with a moment of silence.