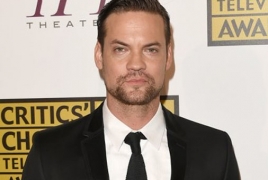 April 18, 2016 - 15:08 AMT
PanARMENIAN.Net - Shane West is set to star opposite Leslie Bibb in Z, writer-director Jonathan Wright's thriller about a couple that gets in over their heads with a serial killer. The project is set up at Sony Pictures Worldwide and is being produced by Michael Baker and Jeff Sackman, Deadline reports.
The story follows a down-on-their-luck young couple who discover a serial killer's film reels. They decide to take the law into their own hands, risking everything for the chance at a $100,000 reward. It isn't long until they find themselves in the killer's lethal cross-hairs. West plays blue-collar husband Mick Branson, who can't seem to get ahead in life. Stressed, broke and with very little chance of escaping a lifetime of poverty, he's willing to do just about anything for his true love, even if it puts his life in jeopardy.
West is in production on Season 3 of WGN America series Salem, which willpremiere during Halloween week. West also has Here Alone premiering at Tribeca this weekend. He will head straight into Z as soon as he wraps Salem. Production starts in Ottawa at the end of May.