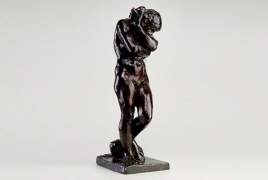 April 19, 2016 - 16:32 AMT
PanARMENIAN.Net - One of Rodin's most beautiful and expressive works, Eve, leads Impressionist and Modern Art at Bonhams New York on May 11. The statue, with a remarkably rich brown patina and standing 30 inches high, is estimated at U.S. $1,000,000-1,500,000, Art Daily reports.
During the early 1880's, Auguste Rodin (1840-1917) was commissioned by the French state to design a grand portal for the proposed Musée des Arts Decoratifs in Paris. The conception of La Porte d'Enfer (The Gates of Hell) dominated the sculptor's creative output for the rest of his life. From it, sprang a small group of independent works – The Kiss, The Thinker and Eve – on which Rodin's worldwide reputation is built.
Rodin initially conceived Eve as a pair to a figure of Adam which together he hoped would flank The Gates of Hell. The government rejected his proposal but he had already begun work on a life-size Eve in plaster and continued to work on it over the succeeding years. Rodin was so pleased with the form that he had it cast in bronze at the end of the 1880's. The success of the figure encouraged him to produce two half-size versions, a cast of one of which is in the sale.
"Rodin is the father of 20th Century sculpture, and this beautiful cast of the Eve shows us why," said Director of Impressionist and Modern Art William O'Reilly. "Although the subject is classical, the hyperrealism of the form and the pure expression of the isolation of the individual in the face of an implacable universe foreshadow Modernist concerns. It's through works like Eve that Constantin Brancusi, Alberto Giacometti and even Francis Bacon saw Rodin as their pathfinder in their exploration of the human condition"