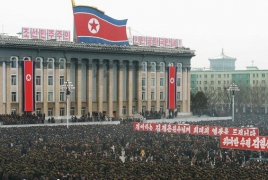 April 20, 2016 - 11:28 AMT
PanARMENIAN.Net - A fifth North Korean nuclear test could trigger new sanctions including an effort to choke off hard currency earnings by its workers abroad, the top U.S. diplomat for the Asia-Pacific region said on Tuesday, April 19, Reuters reports.
"Like a regimen of medicine, the dosage can be upped when the effects fall short of what's required," Assistant Secretary of State for East Asian and Pacific Affairs Danny Russel told Reuters.
Russel made clear he was speaking about the possibility of fresh sanctions by the UN Security Council, by the United States on its own, or by a group of like-minded states from the European Union and Southeast Asia, along with the United States.
North Korea conducted a fourth nuclear test in January and a long-range rocket launch the following month, triggering expanded UN sanctions aimed at starving it of funds for its atomic weapons program.
Some experts expect North Korea to conduct a fifth nuclear test in the near future, possibly before a ruling party congress in early May, following an embarrassing failure of a test of an intermediate-range missile last week.
Estimates of North Korean workers abroad vary widely but a study by the South's state-run Korea Institute for National Unification put the number as high as 150,000, primarily in China and Russia, sending back as much as $900 million annually. North Koreans are known to work abroad in restaurants and on construction sites, and also as doctors.
If the North were to test a fifth nuclear device, the United States and its allies South Korea and Japan could also take unspecified "defense-related measures," Russel said.
"As the threat grows, then our defensive capabilities need to adjust as well," he said, stressing that there was also a diplomatic route that the North could take by reviving long-dormant negotiations on curbing its nuclear program.