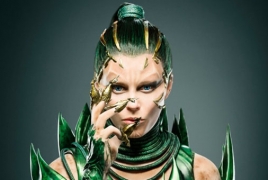 April 20, 2016 - 12:09 AMT
PanARMENIAN.Net - We knew "Power Rangers" baddie Rita Repulsa would be getting a makeover in the new big-budget movie version of the old kiddie series, and now fans get to see the result, TheWrap said.
Elizabeth Banks' all-green take on the character showcased doesn't much look like the old version, which was likely the point. This is not your childhood's Repulsa, TheWrap said.
"It's definitely a modern and edgy re-imagining of the original Rita Repulsa," Banks told People, which posted the first look.
The $120 million big screen "Power Rangers" reboot — which is about a team of superpowered teenagers who do battle with aliens — will hit theaters in March 2017.