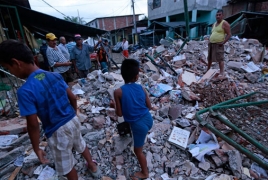 April 21, 2016 - 13:19 AMT
PanARMENIAN.Net - Ecuador will temporarily increase some taxes, sell assets, and may issue new bonds on the international market to fund a multi-billion dollar reconstruction after a devastating 7.8 magnitude quake, a somber President Rafael Correa said on Wednesday, April 20, according to Reuters.
The death toll from Ecuador's weekend earthquake neared 600 and rescue missions ebbed as the traumatized Andean nation braced itself for long and costly rebuilding.
"It's hard to imagine the magnitude of the tragedy. Every time we visit a place, there are more problems," Correa said, fresh from touring the disaster zone.
The leftist leader estimated the disaster had inflicted $2 billion to $3 billion of damage and could knock 2 to 3 percentage points off growth, meaning the economy will almost certainly shrink this year. Lower oil revenue had already left the poor nation of 16 million people facing near-zero growth and lower investment.
In addition to $600 million in credit from multilateral lenders, Correa, an economist, announced a raft of measures to help repair homes, roads, and bridges along the devastated Pacific Coast.
"We're looking at the possibility of issuing bonds on the international market," he said on Wednesday afternoon, without providing details.
Ecuador had been saying before the quake that current high yields would make it too expensive to issue debt. Yields on its bonds are close to 11 percentage points higher than comparable U.S. Treasury debt, according to JPMorgan data, and creditors are likely to be wary after the quake.
Correa's government in 2008 defaulted on debt with a similar yield, calling the value unfair. His government has since returned to Wall Street and Ecuador currently has some $3.5 billion worth of bonds in circulation.
In a nationally televised address later on Wednesday, Correa also announced the OPEC nation was poised to shed assets.
"The country has many assets thanks to investment over all these years and we will seek to sell some of them to overcome these difficult moments," he said.
He also unveiled several short-term tax changes, including a 2-point increase in the Valued Added Tax for a year, as well as a "one-off 3 percent additional contribution on profits," although the fine print was not immediately clear.
The VAT tax is currently 12 percent.
Additionally, a one-off tax of 0.9 percent will be imposed on people with wealth of over $1 million. Ecuadoreans will also be asked to contribute one day of salary, calculated on a sliding scale based on income.