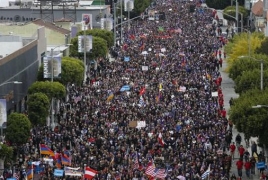 April 24, 2016 - 23:11 AMT
PanARMENIAN.Net - About 25,000 people are expected to attend a march and rally to commemorate the 101st anniversary of the Armenian Genocide Sunday, April 24, Los Angeles Times reports.
The Armenian community in Los Angeles County marks the anniversary of the killings every year with vigils and demonstrations.
Nora Hovsepian, chair of the western region of the Armenian National Committee of America, said Armenian people will continue to gather each year until the killings of Armenians by Ottoman Turks in 1915 are recognized by Turkey and the U.S.
"We lost 1.5 million innocent people in the genocide. It remains a crime unpunished. It is a crime against humanity, and there's no statute of limitations on that," Hovsepian said.
Marchers gathered at 10 a.m. in little Armenia at the intersection of Hobard and Hollywood Boulevard. A larger group is expected to gather outside the Turkish Consulate on Wilshire Boulevard at 1 p.m.
Armenians gathered for vigils last week in Glendale and in Montebello at the Armenian Genocide Martyrs Monument, and many Armenian churches hold services to recognize the fallen, Hovsepian said.
Remembering the genocide is also a part of the curriculum at some schools in Glendale, where many of the county's Armenians live. Schools teach units and hold assemblies on the genocide in the weeks leading up to the anniversary. Earlier this year, the Glendale Unified School District became the first in the nation to recognize April 24 as an official day off to commemorate the Armenian Genocide.
An estimated 1.5 million Armenians were killed amid the collapse of the Ottoman Empire. Turkish officials continue to argue that the term "genocide" is unwarranted because they claim there was no plan to deliberately eliminate the Armenian population, but many historians have begun to use the word.
Hovsepian says the aim of the annual march is to demand justice, which she says will begin with reparations, an unequivocal acknowledgment of the genocide by the Turkish government and the restoration of lost property and money.
It's especially important to recognize the genocide in Los Angeles, Hovsepian said. Census estimates say there are more than 200,000 Armenians in Los Angeles County, though Hovsepian says the number is closer to 500,000.
"Here we have the largest diaspora outside of Armenia," Hovsepian said. We want to make our voices heard."