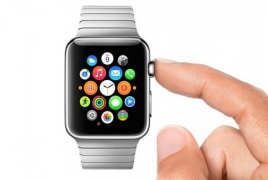 April 26, 2016 - 13:19 AMT
PanARMENIAN.Net - The Apple Watch 2 will be able to make phone calls without needing an iPhone, according to a new report, Digital Spy said.
The Wall Street Journal has spoken to unnamed "people familiar with the matter", and claims that not only will Apple's second-generation wearable be able to make calls without being tethered to an iPhone, it'll also have a faster processor.
The call-making feature would make sense. Other smartwatches - like the Samsung Gear S2 3G - already have it, so Apple wouldn't be breaking any ground here, Digital Spy said.
It's already paving the way. Recently it announced that from June, all Apple Watch apps must work natively on the device - ie, they can't rely on the iPhone to be nearby. Looks like Apple intends the wearable to be a completely standalone device.
Unfortunately, there's no word on when the Apple Watch 2 will arrive, but we're expecting it later this year sometime, Digital Spy said.