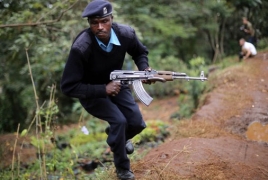 May 4, 2016 - 10:42 AMT
PanARMENIAN.Net - Kenyan police say they have foiled a "large-scale" biological attack using anthrax, by a terror group with links to Islamic State (IS), BBC News reports.
A man, his wife and another woman have been arrested. Rewards have been offered for two other men.
Police did not name the network, but said it stretches across the country and outside its borders, including to Somalia, Libya and Syria.
There was no immediate independent confirmation.
In a statement, the police said Mohammed Abdi Ali, a medical intern at a Kenyan hospital, was in charge of a "terror network... planning large-scale attacks akin to the Westgate Mall attack" in which 67 people were killed.
They say he was also "engaged in the active radicalization" of students and helped recruit Kenyans "to join terror groups in Libya and Syria."
The statement says Ali's network included medical experts who could help organize a biological attack using anthrax. His wife, Nuseiba Mohammed Haji, a student, was also arrested, in Uganda, as was a friend, Fatuma Mohammed Hanshi.
The police said accomplices of Ali had gone in to hiding, including Ahmed Hish and Farah Dagane, who are medical interns.
Police described them as "armed and dangerous" and offered two million Kenyan shillings ($20,000) for information leading to their apprehension.