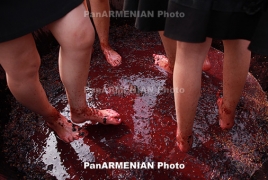 May 14, 2016 - 17:06 AMT
PanARMENIAN.Net - Armenia holds a remarkable depth and diversity of cultural and natural landscapes, all within an area approximately the size of the state of Maryland. This diversity and richness is evident in music, cuisine, art, and—increasingly—Armenia's burgeoning wine industry, The Smithsonian Institute said in an article.
What makes a wine Armenian? The Institute posed this question to Irina Ghaplanyan and Vahe Keushguerian, two wine professionals passionate about the country's current wine renaissance.
Ghaplanyan and Keushguerian emphasized the unique grape varietals indigenous to Armenia and the country's exceptional terroir, the characteristics that soil, weather, climate, and other environmental factors impart to the grapevines. Armenian wine is also connected across time with a more than six thousand-year-old history of viniculture.
In 2011, researchers from UCLA and the Armenian Institute of Archaeology and Ethnography discovered the oldest winemaking facility in the world, dating from approximately 4100 BCE. This Areni-1 cave complex sits at the mouth of a gorge leading to the medieval Noravank monastery, at the outskirts of Areni village.
Armenian grape varietals, like Areni, Kakhet, Voskehat, Khatun Kharji, Movuz, Sireni and Chilar, are still relatively unknown outside of the region. Indigenous to the area and distinct from both the European Old World and New World varietals, these are the grapes that, as Keushguerian puts, "would perplex a wine professional."
Situated at the intersection of the European and Arabian tectonic plates, Armenia has frequent seismic activity. The resulting volcanic soil is ideal for grape cultivation, enriching terroir. Georgian wines also benefit from this soil type, but Armenia's higher elevation and extreme continental climate distinguishes its grapes. Ghaplanyan says very hot summers and very cold winters give the grapes boldness and "a certain maturity."
Armenia's extreme climate is surprising when you consider its latitude—roughly the same as Sicily and Mt. Etna. The Armenian highlands produce a range of microclimates, and diverse grapes grow from the lowest elevations of 2,000 feet (around 600 meters) above sea level to the highest at 5,700 (around 1700 meters), where Keushguerian grows the grapes for his Keush sparkling wine.
"What we're doing is something like 'extreme winemaking,'" he says. "Armenian vineyards are some of the highest in the northern hemisphere, apart from one small patch of vineyard in Colorado."
The extreme climate also breeds grapes with high acidity, so there is no need to add tartaric acid during the winemaking process, which is common with wines of the New World. High acidity without additives made early winemaking possible, when early inhabitants of the South Caucasus may have used wines for ritual purposes.
Winemaking in Armenia dates from at least 4100 BCE to the present day, but Armenian viniculture has been disrupted throughout history by imperial conquests, political revolutions, and shifts in society. During Soviet times, and especially when Stalin came to power in the 1930s, the government asked Armenian winemakers to shift production toward cognac and European-style fortified wines (i.e. sherry, madeira) instead of table wines.
"We can give one credit to the Soviets," Ghaplanyan reminds. "They created collective nurseries, where they would preserve the historic varietals. They didn't industrially use them because they weren't as weather resistant, but they didn't ignore them. They had a collection which we lost during the collapse of the Soviet Union."
Since 1998, they and their fellow winemakers have been rebuilding and expanding the Armenian wine industry, and today there is a renaissance. The 2010 vintage was a watershed year, and Yerevan now boasts almost a dozen wine bars, while Armenian wines are appearing on global top ten lists.