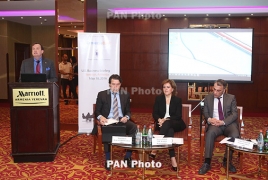 May 18, 2016 - 15:57 AMT
PanARMENIAN.Net - The U.S. Embassy in Yerevan, the American Chamber of Commerce in Armenia, the Armenian Ministry of Economy and Converse Bank organized a one-day business conference on investment opportunities in Armenia for U.S. businesses on Wednesday, May 18 in Yerevan.
"One of my priorities, as Ambassador, is to further develop our bi-lateral economic ties," said U.S. Ambassador to Armenia Richard Mills, Jr., who opened the conference alongside Armenian Minister of Economy Artsvik Minasyan. "The Embassy and our colleagues at the Ministry of Economy are working to strengthen our joint commercial ties for the benefit of both our nations' economies."
"Reliable partners are critical for building durable and lasting business ties, for implementation of mutually beneficial projects and for making long-term investments. Events like this are a serious boost for further strengthening of economic cooperation, identifying new opportunities for businesses and opening up new markets," said Minister Minasyan. "I am convinced that this new round for development of Armenian-American relations will encourage closer and more effective cooperation between Armenian and American business communities and facilitate establishment of mutually beneficial business ties and identifying new areas of partnership."
Attending the conference were many Armenian business leaders as well as executives from a dozen U.S. firms, which are successful in the region and looking to invest in Armenia. The conference was an opportunity for U.S. businesses to hear from experts and financial institutions about the investment outlook in Armenia. Armenian government officials briefed those present on the nation's economic development priorities. The day was also an opportunity for Armenian businesses to discuss future partnerships and deals with their U.S. counterparts.
"We know Armenian businesspeople are great deal makers and are always looking for ways to bring new products and services to the Armenian market and to find new outlets for Armenian-made products and services," Ambassador Mills said. "By connecting Armenian businesses with some great U.S. companies, we hope to see an even larger growth of our bilateral trade. This is what the Armenian people need -- the resources and connections to develop their economy."
A dozen U.S. corporations, representing the IT, engineering, energy, consumer goods sectors, manufacturing and chemical industry, sent representatives to Yerevan for the conference, allowing Armenian business leaders access to well-known U.S. companies eager to enter and expand in the Armenian market.
In a conversation with PanARMENIAN.Net head of Investment Department at Converse Bank Artyom Zakaryan said that such conferences are important in terms of the opportunities they create for foreign investors, enabling them to get familiarized with local businesses and finding target companies for cooperation.
"Very often, based on the market situation, businessmen have certain available assets which are not directed to the further development of the business," he said.
"We can manage those temporary resources by investing them in international markets, providing possibilities for a rather high rate of return."
According to Zakaryan, in case of low development of the capital market, there are a number of companies in Armenia which are largely focused on bank credits.
"In a situation when it is already impossible to increase the loan burden, a businessman can do nothing but attract new shareholders. Given that foreign investors look for new investment destinations in emerging markets, attracting new shareholders from abroad would be better," Zakaryan said.
The one-day program featured presentations by the Ministry of Economy and other Armenian Government officials, the Central Bank of Armenia, Armenia's stock exchange, EBRD, IMF and the Asian Development Bank.
The event was conducted as a follow up to the first meeting of the U.S.-Armenia Council on Trade and Investment held in Yerevan in November 2015. The council was established after the two countries signed the Trade and Investment Framework Agreement (TIFA) in May 2015.