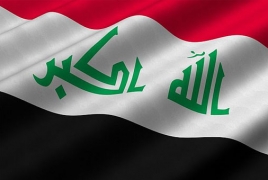 May 21, 2016 - 09:23 AMT
PanARMENIAN.Net - Iraqi security forces opened fire on protesters who stormed into Baghdad's heavily fortified Green Zone on Friday, May 20 and entered the cabinet building, drawing calls for revolt from a powerful Shi'ite Muslim cleric, Reuters reports.
Dozens of demonstrators were injured by tear gas and live fire, witnesses said. Some security personnel were stabbed, according to a military statement. Authorities could not immediately verify reports that several civilians had been killed.
The thousands of protesters included supporters of cleric Moqtada al-Sadr and people from other groups upset with the government's failure to approve anti-corruption reforms and provide security.
The government briefly imposed a curfew on Baghdad and authorities later said order had returned after what they called rioting at the Green Zone, which houses parliament, government buildings and many foreign embassies.
"Infiltrators exploited our forces' preoccupation with preparations for the Falluja battle to penetrate state institutions and cause chaos," the military said, referring to a city 50 km (30 miles) west of Baghdad controlled by Islamic State for more than two years.
Protesters occupied the cabinet building for several hours. Some held Iraqi flags and flashed peace signs near the insignia of the prime minister's press office and inside a meeting room.
The protesters eventually withdrew to Tahrir Square, but witnesses said security forces and unidentified gunmen opened fire there as well.
A military statement said riot police were "dealing with anyone trying to damage state institutions in accordance with the law".
Prime Minister Haider al-Abadi condemned the Green Zone breach and warned against chaos and strife in a late-night televised speech, saying: "The law must take its course with every transgressor."