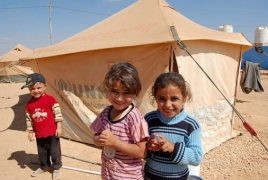 May 23, 2016 - 17:07 AMT
PanARMENIAN.Net - Greece will begin in the coming days to evacuate a makeshift camp on its northern border with Macedonia where thousands of migrants and refugees have been stranded in dire conditions for months, the government said on Monday, May 23, according to Reuters.
The sprawling camp in a field near the Greek town of Idomeni sprang up in February after border shutdowns across the Balkans left the people stranded there. They had mostly been heading for Germany and other wealthier northern European countries.
The migrants, mostly from conflict zones in Syria, Iraq and Afghanistan, have refused to move despite having to sleep in the open in very difficult conditions or being tear-gassed by Macedonian police. They have largely ignored appeals by Greek authorities to move to organized camps set up around Greece.
Giorgos Kyritsis, a government spokesman for the migration crisis, told state TV the evacuation process would begin "tomorrow, the day after and will be completed in a week, at most 10 days."
Asked if the government planned to remove all 8,000 people estimated to be living in the camp, Kyritsis said: "Yes. A thing like Idomeni cannot be maintained. It only serves the interests of smugglers," Reuters says
A police source said 50 riot police squads would be deployed to Idomeni for the gradual removal of the migrants starting from Tuesday evening. Some 2,000 people who have been blocking the railtrack on the border will be removed first, the source said.
The tracks have been blocked by the migrants for more than a month, forcing trains to re-route through Bulgaria further to the east. Some wagons loaded with goods have been stranded on the tracks at Idomeni for weeks.