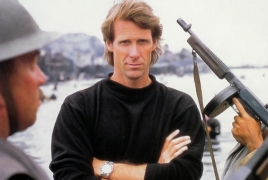 June 1, 2016 - 11:49 AMT
PanARMENIAN.Net - "Transformers: The Last Knight" villain has been revealed by producer/director Michael Bay. Michael took to Instagram on Tuesday, May 31 to announce the imminent start of production on the fifth and final "Transformers" movie to be directed by himself, AceShowbiz said.
Michael also shared a new teaser showing a new face for an old menace due to return in "The Last Knight". A redesigned Megatron will return to the series after his apparent death and transformation in "Transformers: Dark of the Moon".
"It's starting. This week production. Megatron is back. #transformers #decepticons#," Michael wrote. On the official Instagram of "Transformers", the teaser was captioned, "A battle is coming. #transformers."
After a brief shoot in Cuba, production on the "The Last Knight" is set to begin in Detroit later this week.
Last week, "Transformers" released a teaser showing a document from the U.S. State Department spelling out "I'm coming for you May 31" via Morse code. The caption read, "Something wicked this way comes."
Starring Mark Wahlberg and Josh Duhamel, "Transformers: The Last Knight" is set to be released in the U.S. on June 23, 2017.