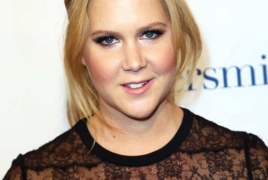 June 1, 2016 - 15:47 AMT
PanARMENIAN.Net - Amy Schumer will star in and produce Universal's bachelor comedy "Who Invited Her?" with Reese Witherspoon producing under her Pacific Standard banner, Variety reports.
Schumer will portray a woman who insists on attending her best guy friend's bachelor party weekend. Tami Sagher of "Inside Amy Schumer" is re-writing the script. Earlier versions were written by John Phillips and Sascha Rothchild. No director is yet attached.
Besides Schumer and Witherspoon, Kim Caramele ("Inside Amy Schumer") is producing along with Russell Krasnoff and Gary Foster for Krasnoff Foster Productions and Witherspoon's producing partner Bruna Papandrea. Erik Baiers will oversee production on behalf of Universal.
Schumer's "Trainwreck" grossed $110 million domestically for Universal and raked in another $28 million internationally. Her original screenplay was nominated for a Writers Guild award.
Schumer is starring in Fox's untitled mother-daughter comedy opposite Goldie Hawn, scheduled for a Mother's Day weekend release on May 12, 2017. She's wrapped on Jason Dean Hall's PTSD drama "Thank You for Your Service" for Dreamworks.
Schumer's sketch comedy series "Inside Amy Schumer" is in its fourth season on Comedy Central.
Pacific Standard has been active in developing projects based on novels with female protagonists, including "Wild" and "Gone Girl," Jessica Knoll's "Luckiest Girl Alive" at Lionsgate, Gayle Tzemach Lemmon's "Ashley's War" at Fox 2000, Wall Street comedy "Opening Belle" at Warner Bros. and a Barbie doll origins movie at Bold Films.