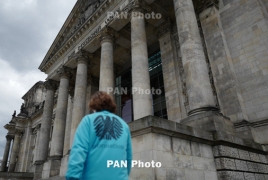 June 1, 2016 - 16:13 AMT
PanARMENIAN.Net - Thousands of emails have been reportedly sent out by the Turkish community to German MPs, threatening the politicians and calling them names in connection with Berlin's latest attempts to recognize the Armenian Genocide, RT says.
Berlin is looking to adopt a resolution, titled "Remembrance and commemoration of the Genocide of Armenians and other Christian minorities in the years 1915 and 1916" Thursday, June 2.
Over 500 different Turkish organizations in Germany sent out emails to their local MPs and journalists covering the subject, Germany's Spiegel Online reported. Turkish citizens have also reached out privately via social media.
Some emails crossed a line, intimidating politicians and threatening the lives of journalists, RT says.
Chairman of the German Greens, Cem Ozdemir, who is of Turkish origin, was one of the MPs who received abusive messages via email, Twitter and Facebook.
"It's always the same terms: 'Traitor,' 'Armenia's pig', 'son of a bitch', 'Armenian Terrorist' and even 'Nazi'," he told ARD.
Journalists covering Germany's attempts to recognize the Armenian Genocide also received threats such as: "You will be eliminated," or "Your end will be like that of Hrant Dink [the Turkish-Armenian journalist who was shot in January 2007 by right-wing extremists in Istanbul]."
Armenians also sent out letters supporting the resolution. "Recognition of the Armenian Genocide is important to prevent other genocides in the future," the spokesman of the Armenian Foreign Ministry, Tigran Balayan, told AFP.
Turkish President Recep Tayyip Erdogan joined the conversation on Tuesday, warning Germany that if it proceeds with its Armenian genocide resolution, it would hurt the bilateral ties between the two nations.