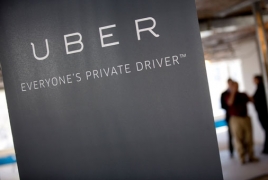 June 1, 2016 - 18:09 AMT
PanARMENIAN.Net - European Union governments should not ban services like home-rental site Airbnb or ride-hailing app Uber except as a last resort, the EU says in new guidelines, seeking to rein in a crackdown on the "sharing economy," Reuters says.
In guidelines seen by Reuters, the European Commission said any restrictions by EU member states on these new online services should be justified and proportionate to the public interest at stake.
"Total bans of an activity constitute a measure of last resort that should be applied only if and where no less restrictive requirements to attain a public interest can be used," the draft document says.
In the case of room-renting sites like Airbnb, the Commission said banning short-term lets of apartments "appears difficult to justify" when limits on the maximum number of days apartments can be rented out would be more appropriate, Reuters says.
The guidelines will come as good news for the likes of Uber and Airbnb, which have faced outright bans or restrictions in some cities as established industry players complain of unfair competition.
Airbnb, founded in 2008, and Uber, launched a year later, both grew up in the hot-house San Francisco Internet scene and almost from the start have faced regulatory battles across the United States, and, more recently, around the world.
Both have become favorite targets of local officials and rival trade groups in Europe, with its tradition of strong social oversight.
In the "sharing economy", customers use the Internet to contract services such as ride-sharing, where amateur drivers displace professional taxis, or home-sharing, which reduces hotel demand.
"These services can fall within several sectors, falling under the regulatory burden of all of them," the Commission said.
A case in point is Uber, which considers itself merely a digital service connecting drivers and passengers as opposed to a transport service, which would make it subject to more onerous rules on driver qualifications, road rules and insurance.
The EU's highest court is set to rule later this year or next on whether Uber is a transport company or a digital service, Reuters says.