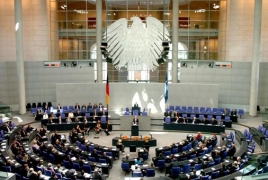 June 2, 2016 - 14:44 AMT
PanARMENIAN.Net - The German Bundestag on Thursday, June 2 adopted a resolution on the recognition and the condemnation of the Armenian Genocide.
The vote was unanimous in supporting the resolution with just one MP voting against and another one abstaining.
Titled "Remembrance and commemoration of the Genocide of Armenians and other Christian minorities in the years 1915 and 1916," the resolution passed with support from all the parties in Parliament. It was put forward by Chancellor Angela Merkel's conservative bloc, their partners in the government, the Social Democrats, and the opposition Greens.
Chancellor Angela Merkel was not present with officials citing scheduling reasons. However, her spokeswoman Christiane Wirtz has made clear that the chancellor supported the motion.
Turkish Prime Minister Binali Yildirim said that Ankara wouldn't nix a key deal with the European Union on curbing the flow of migrants to Europe in case the German Bundestag recognizes the Armenian Genocide.
To date, 11 of the European Union's 28 members have recognized the Armenian killings as genocide and, despite initial protests, Turkey has maintained good relations with several of those countries.
Gathered in front of the Bundestag, Armenians, Greeks, Kurds and Assyrians welcomed Bundestag's decision with applause and national dances.
1.5 million Armenians fell victim to the Genocide at the hands of the Ottoman Empire in early 20th century.