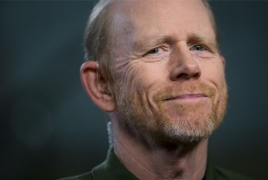 June 9, 2016 - 12:03 AMT
PanARMENIAN.Net - Ron Howard could be reuniting with his "Apollo 13" scribe Bill Broyles on the Skydance movie "Seveneves", which would have Howard directing and Broyles adapting the script, Variety reports.
Howard would also produce with his Imagine Entertainment partner Brian Grazer, who also produced "Apollo 13" along with Imagine's Erica Huggins Skydance's David Ellison and Dana Goldberg.
Based on the Neal Stephenson novel, the story centers on a catastrophic event that renders Earth a ticking time bomb, and nations band together to devise a plan to ensure the survival of humanity in outer space. Five thousand years later, their progeny — seven races now 3 billion strong — embark on another audacious journey to an alien world utterly transformed by cataclysm and time: Earth.
In the past year, Skydance has made an effort to not only be a co-financier on its films, but also help in developing its projects. It is about to begin shooting sci-fi pic "Life" starring Jake Gyllenhaal and Ryan Reynolds, which Sony has boarded as a distributor.
As for Grazer and Howard, the two are currently in post on their latest Robert Langdon film "Inferno" with Tom Hanks reprising his role.
The news was first reported by Deadline Hollywood.