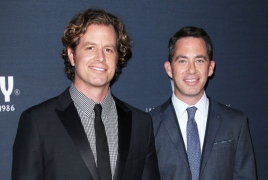 June 9, 2016 - 13:28 AMT
PanARMENIAN.Net - Image Movers and Voltage Films have signed the "No Escape" filmmaking duo John Erick Dowdle and Drew Dowdle to direct action-thriller "The Gafin Academy", Variety reports.
The Dowdle brothers — whose credits include "Quarantine" and "Devil" — will direct from a script by Aaron Rapke and Stewart Kaye. The screenplay is based on Danny King's novel, "School for Scumbags."
The story centers on a habitual teenage delinquent who's expelled from yet another school and finds himself hauled off to Gafin Academy, a reform school that's host to thieves, bullies, arsonists and vandals. Rather than rehabilitating the students, the academy uses them to pull off a massive heist.
The Dowdles co-wrote, directed and produced "No Escape," starring Owen Wilson, Pierce Brosnan and Lake Bell. John Dowdle directed 2010's "Devil," based on the story by M. Night Shyamalan with Drew Dowdle and Shyamalan producing for Universal.
Principal photography is set to commence in the fall, produced by Craig Flores and Nicolas Chartier from Voltage Films, alongside Jack Rapke and Jackie Levine from Image Movers and Matt Sinnreich. Robert Zemeckis will executive produce the project along with David Matalon, Andrew Vajna and Voltage's Jonathan Deckter.
Matalon optioned "School for Scumbags" in 2008.
J.J. Meyers brought the screenplay into Voltage. Voltage will handle worldwide sales and distribution for the picture. The news was first reported by Deadline Hollywood.