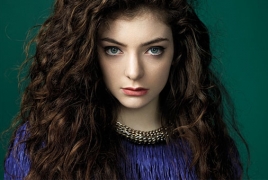 June 11, 2016 - 15:48 AMT
PanARMENIAN.Net - New Zealand's Broods have shared a new song 'Heartlines' which is taken from their upcoming album 'Conscious' due out on June 24, NME said.
The song was world premiered on Zane Lowe's Radio 1 show, with the band calling the presenter their "fellow kiwi".
'Heartlines' was co-written with Lorde, with the band taking to Twitter to share the hand-written lyrics. "So we wrote this song a little while ago with our very talented friend @lorde," they wrote.
Earlier this year (March 23) Iggy Azalea revealed she nearly got to work with Lorde on her upcoming album, 'Digital Distortion'. According to Idolator, Azalea has given a new interview to Remix magazine during which she discusses trying to collaborate with the New Zealand teen.
"I almost collaborated with Lorde on this album," she said. "I sent her the song and it didn't get done in time, but it's one of my artistic goals to collaborate with her."
Lorde recently collaborated with Sam Smith and Disclosure at Coachella. The UK production duo played on Jue 9, with Lorde lending her vocals for a rendition of their collaboration 'Magnets' and Smith coming onstage for 'Latch' and 'Omen'.