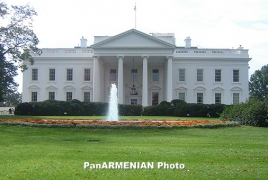 June 11, 2016 - 17:51 AMT
PanARMENIAN.Net - The United States urges the sides to the Nagorno Karabakh conflict to enter into an immediate negotiation on a comprehensive settlement, which would include the return of the territories surrounding Nagorno Karabakh to Azerbaijan's control and a determination of Nagorno Karabakh's status, the White House said.
In response to an online Azeri petition on the conflict, the White House said that the U.S., as a co-chair of the OSCE Minsk Group, is strongly committed to a peaceful and lasting settlement of the Nagorno Karabakh conflict.
On May 16, Secretary of State John Kerry participated in discussions with Armenian President Serzh Sargsyan and Azerbaijani President Ilham Aliyev, alongside Russian Foreign Minister Sergey Lavrov and French State Secretary for European Affairs Harlem Desir. Presidents Sargsyan and Aliyev reaffirmed their respect for the ceasefire, accepted confidence-building measures to reduce the risk of violence along the line of contact and Armenia-Azerbaijan border, and agreed to another round of talks in June, with a view toward resuming negotiations on a comprehensive settlement.
"As part of our ongoing dialogue with the sides, we have and will continue to facilitate discussions related to humanitarian issues. Management and maintenance of the Sarsang Reservoir is one such issue. We welcome a meeting between technical experts from the sides to discuss water management and dam inspections. The co-chairs are ready to facilitate such a meeting," the White House's response to the petition said.
"Ultimately, a resolution of this longstanding conflict depends on the political will of the presidents of Armenia and Azerbaijan."