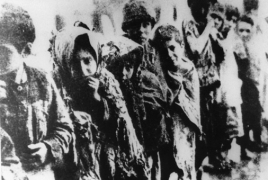 June 20, 2016 - 13:47 AMT
PanARMENIAN.Net - A new poll suggests 50% of Russians believe that an entire nation was being exterminated during the Armenian Genocide in the Ottoman Empire, 13% called this assessment "exaggerated," 22% said they haven't heard about the genocide, and 12% were undecided.
At a memorial service on April 24, 2015, President Vladimir Putin paid tribute to the memory of 1.5 million people who fell victim to the Armenian Genocide. Following the collapse in Russian-Turkish relations, State Duma deputies came to remember about the atrocities more frequently.
Conducted by Levada-Center, the survey found that not all the Russian citizens believe that a policy of extermination was implemented against Jews in Nazi Germany.
"If someone does not know anything about something, the problem is most likely in school education," Deputy Director of the Institute of Russian History of the RAS Sergei Zhuravlev told Kommersant.
Russians learn about the Holocaust from the school course of Russian history, especially because many of the Jews, "which had been destroyed, resided in the occupied territories of the Soviet Union."
The issue of the Armenian Genocide is more difficult, Zhuravlev said.