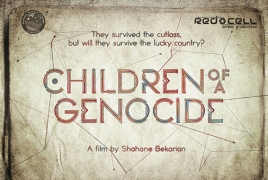 June 23, 2016 - 18:21 AMT
PanARMENIAN.Net - The first ever Australian-produced film on the Armenian Genocide, Shahane Bekarian's "Children of a Genocide" will Premiere at Event Cinemas in Top Ryde on July 31, the Armenian National Committee of Australia reports.
This 62-minute documentary, produced in association with ANC Australia, is about the struggle of Armenian children who narrowly survived the genocide at the hands of the Ottoman Empire in 1915. Exiled from their homes and forced onto death marches into the Syrian desert of Deir ez-Zor, more than 1.5 million perished.
Sydney-based Bekarian uncovers archival interviews of 40 survivors who disclose their shocking stories. Driven by his grandfather's story, the filmmaker searches for identity amongst a mélange of separate cultures. Having tracked down other survivors' grandchildren, 100 years after the genocide, they compare today's struggle to retain their ancient culture from assimilation and homogeny in the "lucky country" of Australia.
With the 101st Anniversary of the Armenian Genocide commemorations in Australia having a particular focus on Australian links to the Armenian Genocide, the film "Children of a Genocide" will add to this awareness as it looks at eyewitness testimonies recorded in the 1980s to help understand the severity of the tragedy, ANC Australia says.
Many descendants play a part in telling their story and how they live their day-to-day lives remembering the pain and sufferings of their ancestors.
Regarding the Premiere of the film, Bekarian said: "I'm very excited and proud to bring my film Children of a Genocide to the greater community."
"The film intends to raise questions on how we're coping with cultural preservation in multicultural Australia and how we deal with the genocide 101 years on, on an interpersonal level and in our day-to-day lives."
He added: "I hope that, with the use of survivor archive footage, it preserves the cause of our forefathers, echoes the connection to the youth, and helps us unite as a singular community."