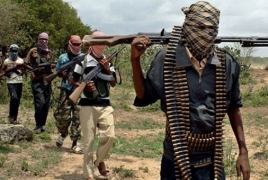 June 28, 2016 - 12:02 AMT
PanARMENIAN.Net - Driven from its stronghold in northeastern Nigeria, the Islamist militant group Boko Haram is targeting the world's least developed country: Niger, Bloomberg reports.
The Nigeria-based militants stepped up attacks in southeastern Niger this month, raiding villages for food and cattle and attacking the town of Bosso, near Lake Chad, to steal weapons. A looting spree in villages near the lake on June 21 was the latest in a string of raids that have left more than 40 people dead.
"Boko Haram is on the defensive and trying to replenish their reserves," Vincent Foucher, a political analyst at the Brussels-based International Crisis Group, said by phone from Senegal. The organization is facing "a regional response that's become much more coherent."
Fishing and farming in the fertile Lake Chad region have almost ground to a halt, causing hunger among the 280,000 people who have sought refuge in the area. The United Nations said it has received less than a third of the $112 million needed to alleviate the crisis. Even if Boko Haram's first incursion into Niger dates from early last year, attacks were more sporadic and mainly targeted the military, Bloomberg says.
"It's been three years since Niger has been affected, but it's now that we really see the magnitude of the crisis," Benoit Moreno, a spokesman for the UN refugee agency, said by phone. "The economy is in complete disorder."
About 50,000 people fled after the June 3 attack on Bosso, which left 26 soldiers dead and scores of houses burnt to the ground. The town was a target because the army was stocking military equipment in preparation of an offensive against Boko Haram, according to Niger's government. The uranium producer ranks last in the United Nations Human Development Index out of 188 nations surveyed last year.