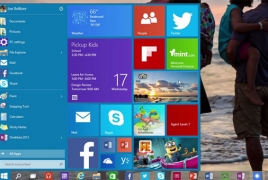 June 28, 2016 - 12:56 AMT
PanARMENIAN.Net - A lot of people have complained about Microsoft's aggressive Windows 10 installation strategy. One person has actually gotten some resolution: according to The Seattle Times, Microsoft is paying $10,000 to Teri Goldstein, who runs a travel agency in California, over an automatic Windows 10 installation, The Verge said.
Goldstein claims that Windows 10 installed itself on her work computer without her permission. Her PC apparently couldn't function after that, so she sued Microsoft for lost wages and compensation to replace her computer. She won the case, according to the Times, and Microsoft decided to drop its appeal last month, deciding instead to just pay the judgment.
In a brief statement, a Microsoft spokesperson says that it "dropped its appeal to avoid the expense of further litigation."
It's unclear what Microsoft might do if others decide to bring similar suits over Windows 10's upgrade system, The Verge said.
There have been quite a few complaints since last summer, when Microsoft first started bugging people to update.