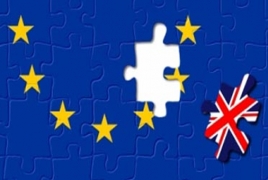 June 29, 2016 - 10:29 AMT
PanARMENIAN.Net - The leaders of Gibraltar and Scotland discussed remaining within the European Union on Tuesday, June 28 after a British vote to leave the bloc, a statement said, according to AFP.
Gibraltar, a rocky outcrop on Spain's southern tip that was ceded to Britain 300 years ago, voted overwhelmingly to remain within the EU.
Scotland also returned a majority to stay, but it wasn't enough to sway the overall British vote to pull out of the 28-member bloc.
"The Government is now exploring all the options in order to determine how to best protect the position of Gibraltar in the future," a statement from Gibraltar read.
Chief Minister Fabian Picardo spoke to Scottish First Minister Nicola Sturgeon, it added.
The two discussed "giving effect to the possibility of Scotland and Gibraltar remaining in the EU, in line with the views of their respective people," AFP says.
"They agreed that technical experts from the two Governments should meet in order to review the situation," it added.
Sturgeon is due to travel to Brussels on Wednesday to seek to defend Scotland's place in the EU in a series of meetings with leaders.
"Through all of this I am determined, utterly determined, to preserve Scotland's relationship and place within the EU," Sturgeon told an emergency session of the Scottish parliament on Tuesday.