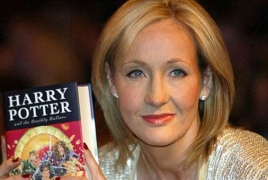 June 29, 2016 - 17:27 AMT
PanARMENIAN.Net - The U.S. may not have Hogwarts, but it has its very own wizarding school instead: Ilvermorny.
J.K. Rowling offered up new details on the institution with a new story on "Harry Potter" site Pottermore. It's the latest in a series of information Rowling has dropped to whet appetites for "Fantastic Beasts and Where to Find Them," the upcoming "Harry Potter" spinoff movie set in New York City 70 years before the "Harry Potter" stories start, Variety said.
The four houses are named after magical beasts: Pukwudgie, Horned Serpent, Wampus and Thunderbird. As Rowling puts it, "Horned Serpent favors scholars; Wampus, warriors; Pukwudgie, healers; and Thunderbird, adventurers."
The short Pukwudgie is a distant relative of the European troll, and isn't a fan of humans. The Parsel-tongue-speaking Horned Serpent is a river serpent with a jewel in its forehead. The Thunderbird can create storms as it flies, and the panther-life Wampus is "almost impossible to kill."
The Ilvermorny Sorting Ceremony goes a little differently than the Hogwarts one. In Hogwarts, new students don the Sorting Hat, who decides where the student best fits. At Ilvermorny, students stand in front of four wooden carvings, each representing one of the houses, and waits for one to react.
Rowling also revealed some new details about the history of Ilvermorny. It was built in 17th century Massachusetts by an Irish woman who fled to the New World as a child to get away from her evil aunt.
Rowling is making her screenwriting debut on "Fantastic Beasts and Where to Find Them," which stars Eddie Redmayne as the bookish Newt Scamander. It will hit theaters on Nov. 18.