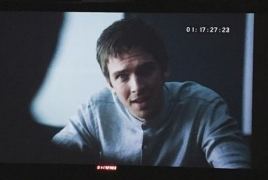 July 4, 2016 - 16:28 AMT
PanARMENIAN.Net - "Legion" showrunner Noah Hawley has shared a new look at Dan Stevens' David Haller on the upcoming FX series. The "Fargo" creator took to his Instagram to post the image showing a shot of a scene taken during the sound mixing, AceShowbiz said.
In the new picture, David dons a button-down shirt and his hair looks tidy. It's noticeably different with the style he sports in a previously released photo which showed him with unkempt hair and casual attire. Does this mean we've already got a glimpse of his two different personalities?
"Legion" follows David Haller, a haunted man diagnosed as schizophrenic at a young age. He is trying to find his way back to sanity, but he's getting tired and is about to give up when he meets the girl of his dreams. In the Marvel comics, he is the son of X-Men founder Charles Xavier. Believing that the voices he is hearing are signs he's mentally ill, he eventually splits into three different personalities: David, the sociopath Lucas, and David's inner child Ian.
Aubrey Plaza stars as David's friend Lenny, who despite a life of drugs and alcohol abuse, knows that any day now her life is gonna turn around, which gives Lenny the likeable energy of the impossible optimist despite her rough demeanor.
Jean Smart portrays Melanie, a nurturing, demanding therapist with a sharp mind and unconventional methods. Rachel Keller also joins the cast as Syd, a self-sufficient and street smart who uses her sharp and prickly demeanor to protect her soft core, because even though it makes her a sucker and puts her at risk, she still believes in happily ever after.