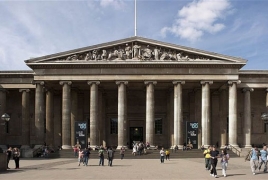 July 4, 2016 - 17:31 AMT
PanARMENIAN.Net - The British Museum launched its Annual Review 2016. 2015/16 was the Museum's most successful year ever with nearly 6.9 million visitors to Bloomsbury (6,853,540) and a digital audience in excess of 40 million, Art Daily reports.
An astonishing 7.7million people in the UK saw British Museum objects outside London thanks to the Museum's National Programmes partnership scheme. The Museum was the leading visitor attraction in the UK for the ninth year running and the second most visited museum in the world. Lonely Planet named the Museum as one of the world's must-see destinations. Hartwig Fischer joined the Museum as Director in April 2016 following the retirement of Neil MacGregor.
Sir Richard Lambert, Chair of the British Museum Trustees, said, 'This year the British Museum has proved once again it is a museum for London, the UK and the world with a diverse programme onsite, offsite and online. As always, the Trustees would like to thank all supporters of and benefactors to the Museum. Every donation makes a difference, from the visitor who makes a contribution in the donation box to a philanthropic donor, all supporters enable the Museum to achieve its ambition to entertain and educate on the widest possible scale.'
Hartwig Fischer, Director of the British Museum, said, 'It has been another hugely successful year for the British Museum, a testimony to the extraordinary efforts of Neil and his team. I took up the post of Director in April 2016. With the continuing generosity and commitment of the Museum's many supporters and staff, my ambition is to carry the British Museum forward– to plan imaginatively for all that the Museum can be in the future, and to build on all that is excellent in its past.'