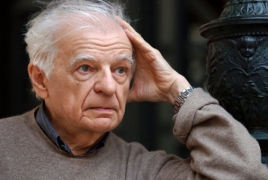 July 4, 2016 - 18:02 AMT
PanARMENIAN.Net - Yves Bonnefoy, France's most famous contemporary poet and celebrated translator of Shakespeare whose poems were translated into 30 languages, has died at the age of 93, officials confirmed Saturday, July 2, according to AFP.
The prolific writer, essayist and poet, who composed more than 100 books over his long career, was often tipped as favourite to win the Nobel prize for literature.
Famous in Italy, Germany and Switzerland but also throughout the English-speaking world, Bonnefoy also produced translations of the works of Yeats, Petrarch and his friend George Seferis, a celebrated Greek poet.
He died on Friday, according to the College de France research and education institute where he was an honorary professor.
Admirers from around the world took to Twitter to mourn Bonnefoy, known for his piercing gaze and mop of white hair, many of them quoting lines from his most famous works.
President Francois Hollande paid tribute to "one of the greatest poets of the 20th century" and a "total artist, curious about the world and all its arts, generous with his time and his talent."
Bonnefoy was born in 1923 in Tours, in central France, to a railway-worker father and a schoolteacher mother.
In his early career, his work tended towards the surreal but he quickly turned away from this movement and his first classic -- the 1953 "Du mouvement et de l'immobilite de Douve" ("On the motion and immobility of Douve") -- went against the prevailing contemporary literary trends.
His writing career extended well into his 80s and he picked up several literary awards along the way, including the 1987 Goncourt prize for poetry.
He acquired legions of fans who admired his lack of attachment to a "concept."
"What saddens me is to see that our education system does not give poetry the place it deserves," he told French radio in a recent interview.
"Everything around us can serve as an inspiration for poetry," he said, which he saw as "a way of discovering the fundamental meaning of life."