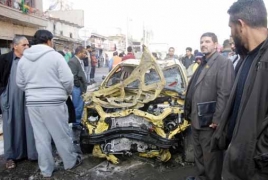 July 12, 2016 - 09:40 AMT
PanARMENIAN.Net - At least nine people were killed and 32 wounded on Tuesday, July 12 when a car packed with explosives was detonated in a district just north of Baghdad, security and medical sources said, according to Reuters.
There was no immediate claim of responsibility for the blast in Rashidiya, but Islamic State regularly carries out such bombings in the capital and other parts of Iraq, where it seized large swathes of territory in 2014.
Baghdad is on high alert for attacks after a blast in the central Karrada district on July 3 killed at least 292 people, making it one of the deadliest bombings in Iraq since U.S.-led forces toppled Saddam Hussein 13 years ago.
Islamic State has turned increasingly to ad hoc attacks, which U.S. and Iraqi officials have touted as proof that battlefield setbacks are weakening the jihadists. But critics say a global uptick in suicide attacks attributed to the group suggests it may adapt and survive.