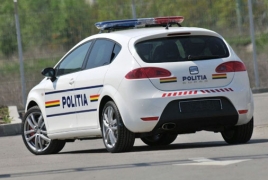 July 15, 2016 - 10:57 AMT
PanARMENIAN.Net - Romanian authorities remanded 38 people in custody on Thursday, July 14 suspected of holding dozens of vulnerable young men and boys like slaves, chaining them up and forcing them to fight, authorities said, according to AFP.
They were arrested followed large-scale police raids on Wednesday in Berevoesti, 170 kilometres north of Bucharest, when five people including two boys aged 10 and 12 were freed.
The captives were "attached with chains and straps... beaten (and) humiliated," starved of food and fed on scraps, prosecutors from the DIICOT organized crime investigation unit said.
They were "left fully naked, cold and hot water being thrown alternatively on them. Their hands and feet were tied and they were told to eat off the ground or to fight each other to amuse the suspects," they said.
Since 2008, some 40 victims were "captured in public places, near churches or train stations, or at their homes" and forced to do household chores, look after animals and do illegal logging, prosecutors said.
Ninety people from Gamacesti, a Roma district within the municipality of Berevoesti in the Arges region, were initially thought to have been involved, AFP says.
"Their treatment was terrible," said Mihaela Porime, a spokeswoman for the DIICOT. Some of the victims are believed to have suffered sexual abuse as well, prosecutors said.
Those freed on Wednesday "had visible traces of open wounds all over their bodies, particularly their scalps. They appeared physically and psychologically traumatized," Adrian Macovei from the DGASPC child protection agency told local media.