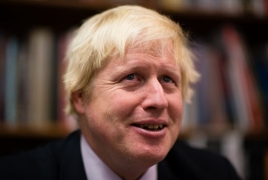 July 18, 2016 - 10:32 AMT
PanARMENIAN.Net - Britain's new foreign minister Boris Johnson was to meet with his European counterparts for the first time on Monday, July 18 in what will likely be a fence-mending trip to Brussels for the outspoken politician who led the victorious Brexit campaign, AFP reports.
The gathering, which will kick off with a breakfast attended by U.S. Secretary of State John Kerry, marks Johnson's first high-profile foray onto the diplomatic scene after his appointment last week by Prime Minister Theresa May stunned European capitals.
It will also be a homecoming of sorts for the eccentric former London mayor, who lived in the Belgian capital in the 1990s when he was the Daily Telegraph's EU correspondent, writing stories that whipped up euroscepticism.
Monday's talks are expected to focus on the fight against terrorism in the wake of the deadly Bastille Day truck attack in Nice and relations with Turkey after a failed military coup there, AFP says.
The conflicts in Syria and Libya are likewise on the agenda.
But ministers will also be sizing up the diplomatic credentials of gaffe-prone Johnson, who is well-known for his quips mocking foreign leaders and who once famously compared the EU's ambitions for closer integration to those of Adolf Hitler, AFP says.
While officials in Brussels have stressed they will welcome Johnson as they would any new foreign minister, there is little doubt that his prominent role in last month's vote for Britain to leave the bloc has ruffled feathers.