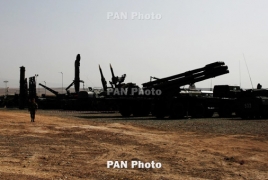 July 18, 2016 - 15:08 AMT
PanARMENIAN.Net - Russia is making efforts to maintain parity in arms trade with Armenia and Azerbaijan, Izvestia cited Director of the Federal Service for Military-Technical Cooperation Aleksandr Fomin as saying.
"Everything must be solved via political and diplomatic channels," Fomin said as he commented on Russia's weapons sale to both Armenia and Azerbaijan.
"I wouldn't focus on whether our military-technical cooperation with them influenced the relationship among various countries. The main task of such a cooperation is not about helping one of the sides or creating superiority of forces. The main task, as paradoxical as it may sound, is the preservation of peace and stability in a particular country, a region and the world in general."
"Even if parity exists theoretically or one of the sides has an advantage, it is not determinative," Fomin said in a blurred message.
"Conflicts start irrespective of whether one of the sides is armed better or worse. Nevertheless, we need to strive for parity. And Russia is making efforts to maintain parity both in absolute terms as well as in the quantity and quality of basic weapons systems."