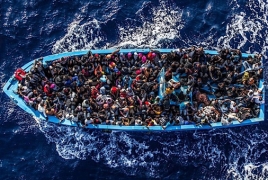 July 25, 2016 - 17:11 AMT
PanARMENIAN.Net - Austria has broken up an international people-smuggling ring that illegally spirited more than 1,000 migrants into Germany, France and other countries from Hungary, police said on Monday, July 25, according to Reuters.
Austrian, German and Hungarian authorities have arrested 17 people over the ring, most of whom were from the southern Russian region of Chechnya, Austrian police said.
Those arrested included the organisation's leader, a Syrian based in Budapest, the police said. Those being smuggled were mainly from Syria, Afghanistan, Iraq and Iran.
"Members (of the organisation) were almost exclusively people from the Russian region of Chechnya based in Austria," and many of the drivers were Polish, a police statement said.
Austria was thrust into the centre of Europe's migration crisis in September, when it and Germany opened their borders to hundreds of thousands of people fleeing war and poverty in the Middle East and elsewhere.
That decision was announced just days after 71 migrants were found dead in the back of a truck abandoned on an Austrian motorway near the Hungarian border, Reuters says.
Keen to avoid a similar incident while also taking a harder line on immigration, Austria has been on heightened alert for people-smuggling since it and several Balkan countries coordinated the closure of the main migrant route into Europe earlier this year.