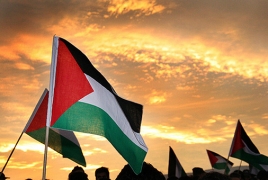 July 26, 2016 - 13:52 AMT
PanARMENIAN.Net - The Palestinian President says he will sue Great Britain over the 1917 Balfour Declaration and its support for a Jewish national home in the Holy Land, the Associated Press reports.
Palestinian Foreign Minister Riad Malki made the announcement on behalf of Mahmoud Abbas at Monday, July 25's opening of the Arab League summit in the Mauritanian capital of Nouakchott.
Malki said the suit would be filed in an international court. He didn't elaborate.
The Balfour Declaration laid the vision for the future state of Israel and sparked waves of Jewish migration to the British mandate in Palestine. Israel declared its independence in 1948 after the mandate expired and won a subsequent war against its Arab adversaries.
Malki said the declaration was a "fateful promise from the ones who don't own to the ones who don't deserve."