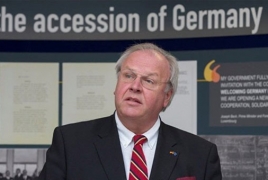 July 28, 2016 - 17:25 AMT
PanARMENIAN.Net - The Turkish government has been giving German ambassador Martin Erdmann the cold shoulder for weeks, after German parliamentarians passed a bill recognizing the Armenian Genocide, The Local reports.
At the beginning of June the Bundestag passed the resolution describing the death of 1.5 million Armenians in 1915-16 as Genocide by an overwhelming majority.
Turkey could barely hide its fury at the vote and immediately recalled its ambassador in Berlin. Shortly after, the Turkish government announced an "action plan" on how to react to the resolution.
Since June 2, Ambassador Erdmann has not been offered a single appointment with the foreign ministry in Ankara or in other parts of the government. His requests for meetings have also gone unanswered.
Lower ranking diplomats have occasionally been offered meetings, but each one needs to be personally approved by Foreign Minister Mevlüt Cavusoglu.
After the vote, the Turkish government also refused a senior civil servant in the defence ministry permission to visit German military personnel at Incirlik air base, where they are part of the coalition against Isis.
Germany is bound to Ankara by a controversial deal on refugees whereby Turkey has agreed to take back asylum seekers who travel over the Aegean into the EU.