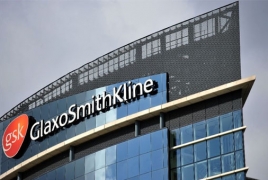 August 1, 2016 - 15:27 AMT
PanARMENIAN.Net - British drugs giant GlaxoSmithKline announced Monday, August 1 that it will form a joint venture with Google's parent company Alphabet to research and develop so-called bioelectronic medicines, AFP reports.
GSK has agreed with Verily Life Sciences (formerly Google Life Sciences) to create a new company called Galvani Bioelectronics, it said in a statement.
The venture will be headquartered in Britain and will receive a total investment of up to £540 million ($714 million, 640 million euros) over seven years.
GSK will hold a majority of 55 percent in the group and Verily will have a 45 percent stake.
"Bioelectronic medicine is a relatively new scientific field that aims to tackle a wide range of chronic diseases using miniaturised, implantable devices that can modify electrical signals that pass along nerves in the body, including irregular or altered impulses that occur in many illnesses," the statement added.
"GSK has been active in this field since 2012 and believes certain chronic conditions such as arthritis, diabetes and asthma could potentially be treated using these devices."
Monday's announcement comes one week after GSK revealed plans to invest £275 million into three of its British manufacturing sites, shrugging off worries over economic fallout arising from Brexit.
That investment will be ploughed into facilities in Barnard Castle in northeastern England, Ware in the southeast, and Montrose in Scotland.