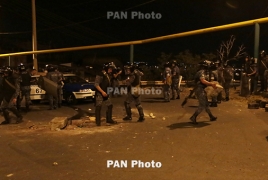 August 8, 2016 - 18:53 AMT
PanARMENIAN.Net - The chief of Yerevan Police Department, Major-General Ashot Karapetyan was sacked today (August 8) by the Chief of Armenian Police Vladimir Gasparyan, ARKA reports citing the agency.
It said Karapetyan as well as some other senior police officers were sacked based on the outcome of an official investigation.
Earlier Karapetyan received a reprimand in connection with the clashes between riot police and demonstrators on July 19 in Khorenatsi Street, near the police station that was seized and kept for two weeks by an armed group.
Karapetyan is said to be replaced with Sargis Martirosyan, the former chief of police in Armenia's second largest town of Gyumri.
An offshoot of Armenia's Founding Parliament opposition movement, composed of many veterans of the Nagorno Karabakh War, seized a police station building in Yerevan on July 17 and held it for two weeks. The group demanded the resignation of President Serzh Sargsyan and the release of their leader Zhirayr Sefilyan, arrested earlier for illegal possession of weapons.
On July 31 the group laid down their arms and surrendered to the authorities. The gunmen had held four police officers hostage for a week before releasing them unharmed. They later seized four members of an ambulance crew, but the last two were allowed to leave on July 30.
The gunmen killed one officer and wounded several others in their initial attack. Police accused the gunmen of killing a second officer on July 30 as he sat in a vehicle away from the compound.