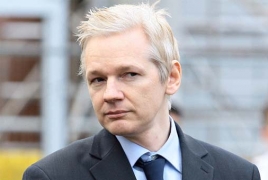 August 11, 2016 - 15:08 AMT
PanARMENIAN.Net - Four years after Julian Assange took refuge at the Ecuadorian embassy in London, Sweden may finally get a chance to question him, CNN reports.
The WikiLeaks founder has been holed up at the embassy to avoid extradition to Sweden, where prosecutors want to question him about sexual assault allegations.
Assange, an Australian, has not been charged and has denied any wrongdoing in the Sweden case.
After years of diplomatic back-and-forth, Ecuador's foreign ministry says it will allow Swedish officials access to the embassy so they can question Assange.
"The attorney general's office notified the prosecutor of the kingdom of Sweden of its willingness to process the interrogation of Julian Assange," Ecuador's foreign ministry said in a statement.
A spokesman for the Swedish Prosecution Authority welcomed the announcement. "This is a positive step and allows the investigation to continue," the spokesman said.